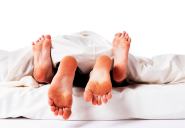 A few months ago, I was surfing around a discussion board for moms when I noticed this intriguing question, "About how long does it take you and your DH to do it?" I clicked through, and I immediately felt inadequate.
Mom after mom was claiming to "do it" for 30 minutes, 60 minutes, and even two hours on a regular basis. These women were describing a "quickie" as sex that lasts for 10 to 20 minutes. A few even complained about short sexual encounters, whining, "I wish my DH had more staying power."
I wondered, "Who are these women and why are they allowed to type such nonsense on the Internet?"
In my bedroom, a typical session lasts about 10 minutes, and that includes the taking off the clothes part and the clean up.
This, by the way, is not my husband's fault. His staying power should probably be documented in the Guinness Book of World Records. (Note: His friends read this blog. My husband will now love me forever. He'd also like me to stipulate that the length of his, well, you know, is legendary.)
Our constant use of the quickie is all my doing.
I simply can't imagine going at it for an hour. An hour?! Two hours?! When I think about having sex for that long, the following words and phrases come to mind:
"Ouch."
"Yawn."
"I have stuff to do."
"Are we done yet?"
It's possible that we completed a few sexual marathons years ago, when we first met. Those were the days when we used to think it was fun to gaze into one another's eyes. My memories of those times have mostly been erased by a chronic case of momnesia, though.
In any case, we no longer have time to eye gaze, not to mention drag things out in the bedroom. Now in the AK (after kid) era, there's simply no time for such frivolity. We have a 529 to fund, a daycare bill to pay, jobs to do, a house to clean, toys to fix, and meals to cook. Sex has become something we slip in somewhere between the daycare drop off and a mad dash to the bank.
Still, even if I had all the time in the world, I'm not so sure I'd want it. If sex lasted an hour or more, I'm quite certain I'd need to take ibuprofen for a few days afterward. I'm just not in that sort of shape anymore.
And even if I was in shape, I'm not sure I'm genetically blessed with the ability to go at it for that long. I've tried to turn myself into a better sex partner. I really have. For instance, I've tried doing it with my husband a lot more frequently, with the idea being that more frequent orgasms would lead to a better ability to delay them.
It sort of worked, too. Instead of 10 minutes, our sessions dragged on for about 12.
I've tried to focus my thoughts on nonsexual things, too, like how I planned to straighten up the bedroom as soon as we wrapped things up. I've even begged my husband to ease up. "No, don't push me over the edge honey, I want to see… Oh, it's too late now."
It's like that.
I thought about asking my real life mom friends about their sex lives, but I held off. I figured they might all be marathoners, too. I didn't want everyone in town knowing that I was a sexual sprinter.
Then yesterday I was doing some research for a heart disease book that I'm writing and I stumbled across a Penn State study. It found that the most sexually satisfied couples usually had sex for just three to 13 minutes. In fact, the psychologists, marriage therapists and sexperts who were studied said that anything longer than 10 minutes was "too long." (And if you wonder what that has to do with heart disease, all I can say is this: Google isn't perfect.) The researchers were quoted as saying, "Unfortunately, today's popular culture has reinforced stereotypes about sexual activity. Many men and women seem to believe the fantasy model of large penises, rock-hard erections and all-night-long intercourse."
I thought three things:
1.    Hallelujah!
2.    Penn State rules!
3.    Bring on the quickies!