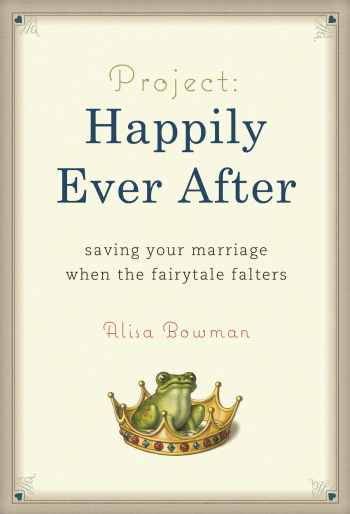 Privacy Policy | Media Kit | Video Clips | Contact
I am a journalist who covers health, relationships, psychology, parenting and other topics for a variety of national publications and websites. I'm also  as a book collaborator, with 7 ghosted and co-authored works making the NY Times bestseller list. You can learn more about my projects and magazine work at AlisaBowman.com. Some of my works include:
PROJECT: HAPPILY EVER AFTER

Saving Your Marriage When the Fairytale Falters
In Project: Happily Ever After I tell the story of how I went from wishing my husband dead to renewing my wedding vows. My four-month project was a last ditch effort to save a marriage that many—my friends, colleagues and even my own mother—had written off as hopeless. I've been told that it's equal parts funny, poignant, and helpful, and that the book offers other divorce daydreamers courage and hope. I include a 10-step plan you can follow to start their own marriage projects at home.
How to Say It Right the First Time, Every Time
For this collaboration, I worked with media guru and Emmy Award-winning correspondent Bill McGowan—coach to some of the biggest names in business and entertainment, including Eli Manning, Kelly Clarkson, Jack Welch, Thomas Keller and Kenneth Cole. He is also a trusted advisor in the C-suites of tech companies like, Facebook, Spotify, AirBnB, Dropbox and Salesforce.com.
Saying the right thing the right way can make the difference between sealing the deal or losing the account, getting a promotion, or getting a pink slip. It's essential to be pitch perfect—to get the right message across to the right person at the right time. In Pitch Perfect, Bill McGowan shows you how to craft the right message and deliver it using the right language—both verbal and nonverbal.
Pitch Perfect teaches you how to overcome common communication pitfalls using Bill's Principles of Persuasion, which are highly effective and easy to learn, implement, and master. With Pitch Perfect you can harness the power of persuasion and have people not only listening closely to your every word but also remembering you long after you've left the room. I've used Bill's techniques to get over my fear of public speaking, so I can vouch for their effectiveness.
DANGEROUS INSTINCTS
How Gut Feelings Betray Us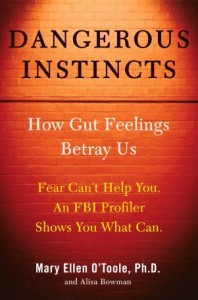 Chances are you'll never be kidnapped at gunpoint, your child won't be the victim of a predator, and your financial advisor won't be Bernie Madoff. But every day, you make choices that could turn dangerous in an instant, from trusting a date with a drink to letting your son ride home with his soccer coach. Written with former FBI profiler Mary Ellen O'Toole, PhD, Dangerous Instincts teaches you that what we rely on to assess danger—fear and emotion—simply doesn't keep us safe. What does? A smart, proven analysis. Using anecdotes from her thirty-year career, O'Toole explains the SMART method that she developed based on her experiences at the FBI. From recognizing the risk of a situation to observing people for clues on their intent, Dangerous Instincts shows how to make the safest decisions possible for yourself and your family.